At the District 4 Conference in September 2009 the membership voted to assemble and distribute birthing kits.  Birthing kits provide the essential items to promote a safe, clean delivery and to encourage good aftercare. Zonta Club of Jamestown has sent over 2,000 kits to places like Haiti, Honduras, Africa, Afghanistan, Nepal and Guatamala.
Our member, Mary Rappole, a retired women's health educator spoke at our September 20th program meeting. She discussed the kits and showed us this video showing the impact her team has on villagers in Haiti:
What is in a birthing kit?
Plastic – 1 m x 1 m or 36″ x 36″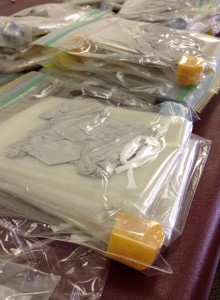 Soap
Gloves, 2 per kit
3 pieces of umbilical cord tie, or 2 clamps
Scalpel/razor blades  if cord is used
Gauze- 5 small squares
Clean Assembly of the Birthing Kits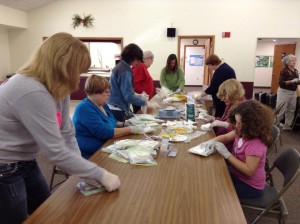 Mary Rappole speaks with an expectant mother in Haiti
---
---
The Zonta International Club in Jamestown assembled 480 birthing kits that will be sent to third world countries to be used in obstetrical settings providing improved birthing practices for women and infants. The kits were assembled at St. Timothy Church Route 430 in Bemus Point by volunteers of the Zonta Club using a "clean technique".
The birthing kit contains a 3X3 foot sheet of new plastic, a pair of disposable clean gloves, a small cake of soap, three cotton umbilical cord ties, gauze pads, and a new disposable razor blade. The plastic sheet provides a clean area for the delivery of the infant, gloves provide another aseptic barrier protecting the newborn from bacteria exposure, and of course the soap is used for the new mom, newborn and those helping with the delivery.
All items are donated or purchased by Zonta International Club of Jamestown with Service funds from the local budget.
Thus far, 100's of the Jamestown club's birthing kits have been sent to Haiti, Honduras, Afghanistan, Nepal and points East in Africa. A midwife in Honduras has benefitted from the kits for several years. The Zonta Club has outfitted her practice with surgical scissors and other products for sterilizing the implements that may be used.
This initiative is now a Zonta International District 4 project, first introduced by a Zonta Club in Australia.  District 4 has sent over 10,000 kits to third world countries.  The birthing kits are an effort to reduce infection in the mother and baby with a goal to reduce infant and maternal mortality.
---
Any monitory or supply donations toward this project
would be happily accepted and greatly appreciated!